Santa Rosa Injury Lawyers
over three decades of legal experience
Over $100M Recovered for our clients
Extensive Jury Trial Experience
Providing Personal Injury Victims with Proficient & Personalized Representation
Have you been involved in an accident caused by negligence and has left you injured in Santa Rosa? If someone else was responsible for your injuries and you want to hold them legally and financially responsible, our Santa Rosa
personal injury attorneys
at Delfino Green & Green can help. In the 30 years we have been in practice, we have successfully recovered tens of millions of dollars for our clients. We are truly dedicated to providing compassionate representation and helping our clients recover compensation.
The Personal Injury Statute Of Limitations in California
According to the California Code of Civil Procedure section 335.1, the statute of limitations for personal injury cases in California is two years. This means you have two years to file a personal injury claim or you will not be able to file your claim, losing your legal right to pursue compensation. While there are ways to extend the statute of limitations, the party filing must meet specific requirements set out by the state of California. For example if an injury victim is under the age of eighteen the two-year clock does not begin until their eighteenth birthday. There are also circumstances that can shorten the statute of limitations such as if your claim is against a California government agency. In these circumstances and individual have only six months. Have questions? A personal injury attorney in Santa Rosa from our firm can let you know how the statute of limitations can affect your case. Don't wait to file our claim! Contact us today to get started.
Damages You Can Recover in a Personal Injury Case in Santa Rosa
Damages is a legal term used to describe what injury victims can recover compensation for in a personal injury case. Generally, there are three types of damages, economic, non-economic, and punitive damages. The first two damages, also commonly called as general and special damages, are known as "compensatory damages." This means that economic and non-economic damages are the damages responsible for compensating the injured party for as many losses as possible. These losses can include:
Past and future medical expenses
Lost wages due to the inability to work
Mental anguish
Pain and suffering
Compensatory damages are often the most talked about since they are the damages most often awarded in a personal injury case. The last type of damages, punitive damages, differ from compensatory damages in that their main purpose is to punish the at-fault party instead of compensating the injured party. Punitive damages are often very severe, as such, they are not often awarded.
Injury Cases We Handle
At Delfino Green & Green, we take negligent and reckless behavior very seriously. Over the years, we have seen the ways in which irresponsible people have caused devastating accidents and injuries. Our legal team has extensive experience representing all types of injury claims and can work with you to determine the best course of action for your case.
Our Santa Rosa Attorneys Handle the Following Injury Cases, and More:
Car Accident Injury Lawyers in Santa Rosa
If you are a car crash victim in Santa Rosa and in search of uncompromising, expert legal representation, there's no better firm to work with than Delfino, Green & Green. We are intimately familiar with the challenges facing most injury victims, including financial, physical and psychological obstacles. Call us at
(415) 442-4646
to schedule your free consultation today. In need of a professional attorney focusing in personal injury cases in Santa Rosa? Think about recruiting a personal injury lawyer that will assist you manage the legal proceedings and defend for your rights in and out of court. Choose an experienced car accident attorney that has successfully defended clients in similar instances and can acquire for you the damages you deserve.
Car accidents happen everyday. They're so commonplace that most people barely bat an eye when they see a collision's aftermath on the side of the road. However, it's important to remember that not all car accidents are the same or carry the same consequences. A light fender bender is an accident, but it's not really a wreck. In most of these cases, all the parties involved walk away unscathed, although whiplash and similar injuries do at times occur. While it's still smart to hire an experienced car accident attorney to negotiate with the insurance company on your behalf, the stakes are relatively low. Serious collisions, on the other hand, are anything but low-stakes. Passengers and drivers may suffer tremendous physical injuries, financial setbacks and lifelong consequences—even when the accident wasn't their fault. How is that fair? At
Delfino, Green & Green
, we don't believe it is. Although we can't stop car accidents from affecting innocent people, we can help ensure they don't suffer financially for someone else's mistakes. Keep reading to learn everything you need to know about car accident lawsuits, who is eligible to file them and how we can help you get your life back on track. When you're feeling compromised by a serious injury, knowing you have a compassionate, knowledgeable lawyer on your side can make all the difference.
Contact us today
to start working with a top Santa Rosa car accident attorney without paying a dime upfront.
Motorcycle Accident Injury Attorneys in Santa Rosa
For over 30 years, our experienced personal injury lawyers in Santa Rosa have been protecting the rights of individuals throughout the State of California. Our goal is simple: To give injury victims a brighter future by securing the compensation they deserve. Call us at
(415) 442-4646
to schedule your free consultation today. After a severe motorcycle accident, filing a personal injury could be the least of your concerns on your mind. However, it is important to note that based on the extent of your injuries, you could undergo ongoing financial difficulties. Suing the party who caused your crash aren't about retribution—it's about receiving the damages you are entitled to for your recovery.
Damages to Include in Your Accident Settlement
Motorcycle accident victims don't just suffer physical injuries; they can suffer financially, emotionally and psychologically as well. When you're calculating your settlement amount, make sure to consider the following damages:
Medical bills
Future treatment costs
Lost wage
Loss of earning capability
Disability
Disfigurement
Post-traumatic stress disorder (PTSD)
Loss of enjoyment of life
Property damage
Pain and suffering
This is by no means a definitive list of damages you can include in your settlement amount. Not sure how to calculate it on your own? That's not a problem—an experienced
personal injury lawyer
can help you prepare a comprehensive list of losses.
Santa Rosa Truck Accident Injury Attorneys
As a leading San Francisco Bay Area personal injury law firm, we help people in Santa Rosa with truck accidents,
Delfino, Green & Green
has recovered millions for injury victims across the state. If you were injured in an accident caused by a negligent driver, we may be able to help you secure compensation. Call us at
(415) 442-4646
to schedule your free consultation. Do you ever get apprehensive passing 18-wheelers on the highway? It is a totally natural response when considering the fact that fully loaded big rigs can weigh as much as 80,000 pounds—about 20 times more than the average car. Can you predict who fares better when the two collide? The utter size of 18-wheelers means that anything they come in contact with will likely suffer disastrous damage, including you. Even if you survive a large truck accident, you probably won't escape harm; it is likely that you'll be hospitalized with serious injuries. Regrettably, your physical health won't be the sole thing that suffers.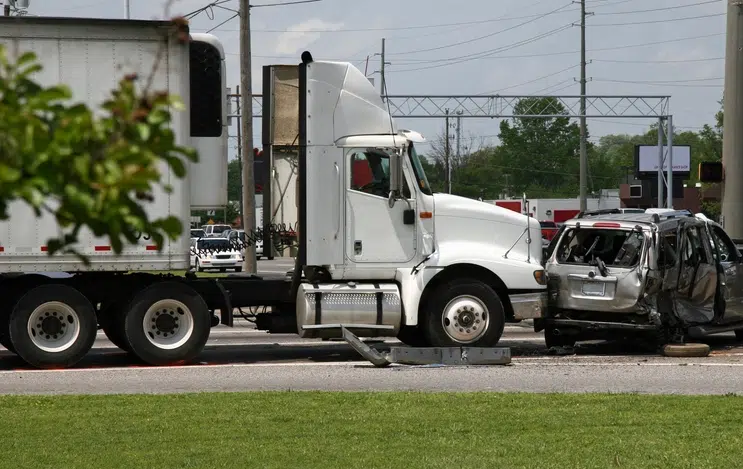 Types of Large Truck Accidents
Because of their sheer size and weight, commercial trucks handle differently than regular vehicles, which is why truck drivers need special licenses. Here are some common causes of large truck accidents:
Rollover. Because they have a high center of gravity, large trucks are more likely to roll over than other vehicles. This can happen when the truck driver turns too sharply or drives over an object.
Brake failure. Mechanical issues, weather conditions or an improperly balanced cargo load can all cause a large truck's brakes to malfunction.
Careless turns. Big rigs are difficult to maneuver, and in order to turn, drivers need to first swing widely in the opposite direction. With a limited field of vision, careless drivers can make turning errors that result in a collision.
Lack of maintenance. Trucking companies must perform scheduled maintenance on their vehicles to ensure they are safe to drive. However, not every company keeps up with proper maintenance, and their negligence may cause wrecks.
Truck driver fatigue or impairment. When a trucker is fatigued from lack of sleep or inattentive due to substance use, they may make critical driving errors that result in catastrophic accidents.
Although these are some of the most common causes of truck accidents, this list is by no means comprehensive. Even if you don't know for sure what caused your accident with a big rig, it's a good idea to contact a lawyer for advice.
Should I Hire an Attorney for My Personal Injury Case?
The legal team at Delfino Green & Green are ready to fight on your behalf as true advocates on your side. Committed to working for your best interest every step of the way, our experienced team will fight for the maximum amount of compensation you deserve. Insurance companies, despite what they may say in their commercials, are almost never looking out for your best interest. Instead they primarily interested in what will save them the most amount of time or money. Learn more about how we can help you today.
Schedule a Free Initial Consultation with a Santa Rosa Personal Injury Lawyer.
Our Santa Rosa personal injury lawyers work efficiently to investigate your case, review the information about your accident, and build a strong case strategy to help hold the responsible party accountable. When you turn to our firm for representation, you can rely on us to provide you with the guidance and care you need and deserve. We know that this can be a trying time for you and your family and want to help you secure the maximum amount of compensation possible.
Don't wait to get started on your case
If you or someone you love has been injured, had your rights as an employee violated, or had your valid disability claim denied, please contact Delfino Green & Green. Call one of our San Francisco ERISA lawyers at (415) 466-8544 or contact us online to learn more about how we can help you today.
Contact us now
Request Your Free Consultation Now
Get the firm legal guidance you need with Delfino Green & Green