San Francisco Truck Accident Attorneys
over three decades of legal experience
Over $100M Recovered for our clients
Extensive Jury Trial Experience
Relentless, Proficient & Compassionate Representation
As a leading San Francisco personal injury law firm,
Delfino, Green & Green
has recovered millions for injury victims across the state. If you were injured in an accident caused by a negligent driver, we may be able to help you secure compensation. Call us at
(415) 442-4646
to schedule your free consultation.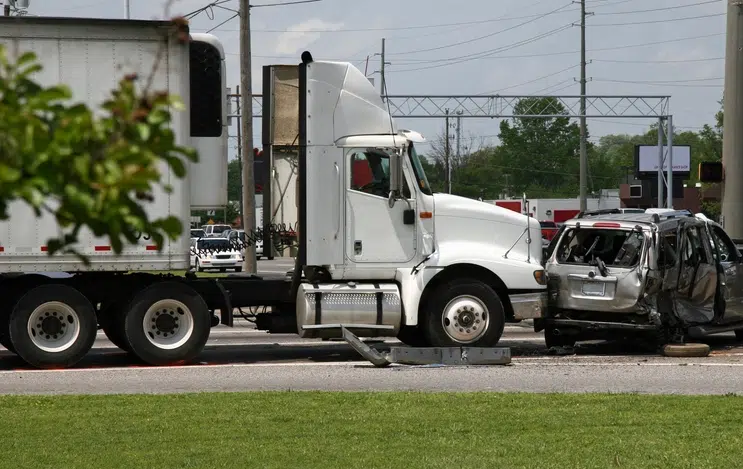 Do you ever get nervous passing 18-wheelers on the highway? It's a completely natural response when considering the fact that fully loaded big rigs can weigh as much as 80,000 pounds—about 20 times more than the average car. Can you guess who fares better when the two collide? The sheer size of 18-wheelers means that anything they come in contact with will likely suffer catastrophic damage, including you. Even if you survive a large truck accident, you probably won't walk away unscathed; chances are good that you'll be hospitalized with serious injuries. Unfortunately, your physical health won't be the only thing that suffers. After you've recovered from your injuries and leave the hospital, you may find that you owe tens or hundreds of thousands of dollars in medical bills. You may find you've missed paychecks or even lost your job. You may even leave with permanent disabilities or psychological conditions that keep you from holding down a full-time job in the future. What do you do?
You turn to a trusted San Francisco truck accident attorney.
An experienced lawyer will know whether or not you have a case, and if you do, they can help you pursue the compensation you deserve. Keep reading to learn more about who qualifies for truck accident lawsuits.
At Delfino, Green & Green, we've seen truck accidents financially devastate injury victims and their families. By partnering with an experienced personal injury lawyer, you may be able to get the help you need to recover. Contact us today.
Contact Our Truck Accident Lawyers
Please contact us online or feel free to call us today at 415-442-4646 to schedule a completely free consultation with one of our knowledgeable San Francisco truck accident lawyers.
contact us now
How Dangerous Are Truck Accidents?
Truck accidents are extremely dangerous, especially for the other vehicles involved. In 2020,
4,842 large trucks
were involved in fatal crashes in the U.S., a five percent increase from 2016. Another 107,000 large trucks were involved in crashes resulting in an injury. Although commercial trucks are less likely to be involved in an accident, the data shows that when they are involved, the accident is more likely to cause fatalities or serious injuries. Most fatal truck accidents in 2020 occurred in rural areas on non-interstate roadways.
Types of Large Truck Accidents
Because of their sheer size and weight, commercial trucks handle differently than regular vehicles, which is why truck drivers need special licenses. Here are some common causes of large truck accidents:
Rollover. Because they have a high center of gravity, large trucks are more likely to roll over than other vehicles. This can happen when the truck driver turns too sharply or drives over an object.
Brake failure. Mechanical issues, weather conditions or an improperly balanced cargo load can all cause a large truck's brakes to malfunction.
Careless turns. Big rigs are difficult to maneuver, and in order to turn, drivers need to first swing widely in the opposite direction. With a limited field of vision, careless drivers can make turning errors that result in a collision.
Lack of maintenance. Trucking companies must perform scheduled maintenance on their vehicles to ensure they are safe to drive. However, not every company keeps up with proper maintenance, and their negligence may cause wrecks.
Truck driver fatigue or impairment. When a trucker is fatigued from lack of sleep or inattentive due to substance use, they may make critical driving errors that result in catastrophic accidents.
Although these are some of the most common causes of truck accidents, this list is by no means comprehensive. Even if you don't know for sure what caused your accident with a big rig, it's a good idea to contact a lawyer for advice.
Contact US
Contact us and speak with an experienced truck accident attorney in San Francisco today. Call 415-442-4646.
contact us now
What Are My Legal Rights after a Truck Accident?
Most people don't realize they have legal rights after being in a truck accident, and insurance companies take advantage of that. In an effort to pay out as little as possible, insurance representatives may try to get you to say something that hurts your case, or they may find a way to get out of paying you entirely. If you were injured in a truck accident, don't talk to the trucker driver's insurance company before speaking to a lawyer. Once you partner with an attorney, the insurance company isn't allowed to contact you about the case—they have to go through your lawyer. It's also important to refrain from posting anything about the accident on social media, as the insurance company may try to use it against you.
Determining Fault
The first step in any personal injury case is determining fault. The person or entity who was legally at fault for causing your truck accident will be liable for your damages. However, pinpointing the responsible party isn't always as easy as it sounds. In many commercial truck cases, the driver is to blame; after all, it's easy for inexperienced truckers to lose control of their vehicles. Sometimes, however, the problem is larger. For example, suppose a trucking company refuses to perform proper maintenance on their trucks, and as a result, it breaks down on the highway and causes a collision. The company—not the truck driver—should be held responsible. Now imagine a scenario in which a manufacturer sells defective brakes to a trucking company. If those brakes malfunction out on the road, the manufacturer should be held accountable. The same goes for government entities that neglect necessary road maintenance, or construction companies that leave debris in the road. Ultimately, many different parties can be at fault, and determining the responsible party often requires assistance from an attorney.
How We Can Help
As top San Francisco truck accident attorneys, we've seen just about every type of accident you can imagine. We've also seen what happens when injury victims don't get compensation, and the sad reality is that they often struggle to pay for treatment and sometimes never financially recover. That's why many accident victims choose to partner with a trusted personal injury firm.
We May Be Able To Help You
At Delfino, Green & Green, we couldn't be prouder of our work in the Bay Area. We've recovered millions on behalf of our clients, and if you were injured in a truck accident, we may be able to help you, too. Contact us online to schedule a free consultation or give us a call at (415) 442-4646.
contact us now
Verdicts & Settlements
We've recovered millions for our clients
$10,400,000
Construction Death
The husband and father of 4 young children was working at a construction site when he died because of another contractor's negligence. After more than two years of hard fought litigation, our team of experts was able to win a tremendous victory on behalf of our clients and ensure that all of their financial needs will be met. We could not bring back the husband/father for this family, but we were able to protect them from the financial devastation that can and often does result where the primary source of income for the family is taken away. We then worked with our team of financial planners to make sure that this family will always have financial security.
$10,000,000
Bad Faith Insurance Claim
Insurance Coverage/Bad Faith Bad Faith – Pollution Coverage Prior to forming his own firm, Mr. Green worked at one of the largest and most prestigious firms in the U.S. He was the primary attorney on an environmental insurance case that went to trial in San Francisco. After a several week trial, Mr. Green came away with a trial verdict against the insurers with a value of over $10,000,000 in available insurance coverage.
$5,750,000
Traumatic Brain Injury
A 16 year old developmentally disabled kid was hit by a bus while in a crosswalk. He suffered a concussion which turned into post concussive syndrome, where the symptoms of the concussion don't heal completely. This is also known as a mild Traumatic Brain Injury ("mTBI"). Our firm was hired as trial counsel 6 months before trial because of our expertise in TBIs as well as cutting edge trial techniques. When we first associated into the case, there was a very minimal settlement offer and it did not appear that the Defense was taking the case seriously. Our team of attorneys, experts and staff immediately immersed ourselves in the case as we prepared to demonstrate the catastrophic consequences of this incident. Shortly before trial, the Defense could see that we had put all the pieces together to prove liability and that full justice for our young client required damages in the many millions of dollars. The matter settled for $5,750,000.
$2,400,000
Disability Claim
Disability – Neurological Issues Our client became disabled from neurological issues. Our attorneys were able to work with the client and his physicians to quickly assemble all of the documentation necessary to support out client's claim of total disability. The insurer agreed that our client was totally disabled and paid his claim.
$2,000,000
Traumatic Brain Injury
Traumatic Brain Injury to Child A three year old child was being carried across the street when she was struck by an oncoming car. The child suffered a serious traumatic brain injury when she hit the ground. Her injuries were so serious she had to be hospitalized for several months. Our firm negotiated a settlement of $2,000,000 by forcing the payment of all of the available insurance from the driver's automobile insurer ($1,250,000), the entire amount of the homeowners insurance limits available ($500,000), and all of the amounts that the person carrying the little girl was able to recover from the negligent driver ($250,000). We then arranged for another firm to prepare and fund a large Special Needs Trust for the health and welfare of the injured child.
$1,800,000
Heart Condition Disability
Our client became disabled by a heart attack. The insurer refused to pay, claiming that our client was still able to perform his occupation. We met with all of our client's doctors, obtained reports confirming the client's inability to perform his prior occupation, and ultimately convinced the insurance company to pay the claim in full.
$1,700,000
Builder's Risk/Collapse
A contractor suffered a severe collapse at one of his sites. The claim was submitted to the insurer and denied. Mr. Green reviewed all of the facts, researched the law, and brought together the necessary experts to prove that the Contractor's Builders Risk insurer was responsible for a substantial portion of the loss. He also proved that a subcontractor was negligent and the subcontractor's insurer also paid a substantial settlement. In total, Mr. Green was able to obtain more than $1,700,000 in compensation for his client.
$1,000,000
Heart Condition Disability
Our client had worked for the government for many years when she began suffering from a serious heart condition. All of her doctors told her that she could no longer work and if she continued to do so, she would be risking further injury to her heart or even death. Based on thi
$1,000,000
Traumatic Brain Injury
Our client suffered a mild Traumatic Brain Injury when heavy object struck her in the head. The responsible party denied all fault and insisted until the very end that our client had not suffered a brain injury and offered nothing to settle the case. Our firm assembled a team of world renowned expert's to demonstrate that our client had suffered a mild Traumatic brain injury. The case settled shortly before trial.
$985,000
Traumatic Hand Injury
Our client was working at a manufacturing plant. While operating a piece of machinery, his glove became caught in the machinery and part of his hand was severely injured. Ordinarily, this type of injury would be restricted to remedies available through Worker's Compensation. However, through the knowledge, ingenuity, and creativity of our team of attorneys, we were also able to obtain a very substantial civil settlement for our client in addition to the workers comp settlement of his case.
$975,000
Aviation Death Settlement
A husband and father of two small children was killed in an aviation accident involving a small aircraft. Our firm represented the widow and two children against the pilot of the aircraft. By hiring experts in aviation (to prove negligence) and economists (to prove damages), and utilizing William Green's expertise as an instrument-rated pilot, we were able to make a very powerful case and obtain a very favorable settlement that allowed the family to survive financially.
$700,000
Forklift Accident
A construction supervisor went to pick up some materials for a construction job. A worker at the yard neglected to set the parking brake on a piece of heavy equipment a few yards away. While the construction supervisor had his back turned, the machine rolled into him, pinning him against the side of his pick-up truck. He suffered several broken ribs, but that was the least of his injuries. Within several weeks of the accident, he had partially lost his sight. By working with medical experts, our firm was able to directly connect the sight loss to the injuries caused by the machine that rolled into our client. The case settled at Mediation without any need for a trial.
Words of Praise from Our Clients
"I had the pleasure of working with Sharon Delfino on my workmens comp case. She definitely had my best interest at hand. She was able to find me a great doctor and help me resolve my case. The staff there are always polite and friendly, never had an issue. It was a pleasure working with Delfino Green & Green !"
- Tabitha W
"I've known the firm's founder, Bill Green, for many years and I can say that he is one of the best attorneys I've had the pleasure of working with. He and his associates at Delfino Green & Green are hard-working, highly responsive, and very professional, and they get the job done, without excuses. Bill is a great communicator, both with clients, and in Court, and invests time and money to include visual storytelling in his trials and mediations. You won't find an attorney who cares more about you, and getting you an outstanding result for your case. Bill is one of the "good guys" in the legal profession…a great person to have on your side when dealing with the craziness of litigation."
- Tim M
"A few years ago, I referred a friend of mine to the attorneys at Delfino Green & Green. He was extremely happy with the job they did on his case. He was severely injured when a car hit him when he was crossing a street and this event had the potential to ruin him in a number of ways – financially, physically, emotionally, etc. We kept in close contact during the lawsuit and he told me how great his lawyer and his assistant were throughout the process. Caring, compassionate and very knowledgeable. My friend ended up with a great result – fair financial compensation and great treatment for his injuries. Little did I know when I referred my friend that a few years later, I would need a lawyer for injuries I suffered, but I did. Based on my friend's experience, I knew that Delfino Green & Green would be the right attorneys for me. So I hired Bill Green and his team to help and they jumped right into action. Now I can saw that I too have firsthand knowledge of just how great these guys are. They knew the law, they knew just how to handle my particular case, and they helped me get my life back after the horrible events that lead to my injury. I can't imagine that you could do any better than hiring these folks. I'm so grateful for all they did for both me and my friend."
- Evelyn A
"The work Delfino Green & Green did on my case was beyond excellent. The final result was superb, but I also truly appreciated how Mr. Green and the team kept me up-to-date at every stage of the case. I was able to reach someone whenever I needed something or had something important to report and the firm always let me know what was going on in my case. That was very important to me because I hadn't found that to be true with other attorneys. In short, really top flight work, great people and results that met all of my expectations above and beyond."
- Byron H
see all reviews
Request Your Free Consultation Now
Get the firm legal guidance you need with Delfino Green & Green